Orthodontics for Adults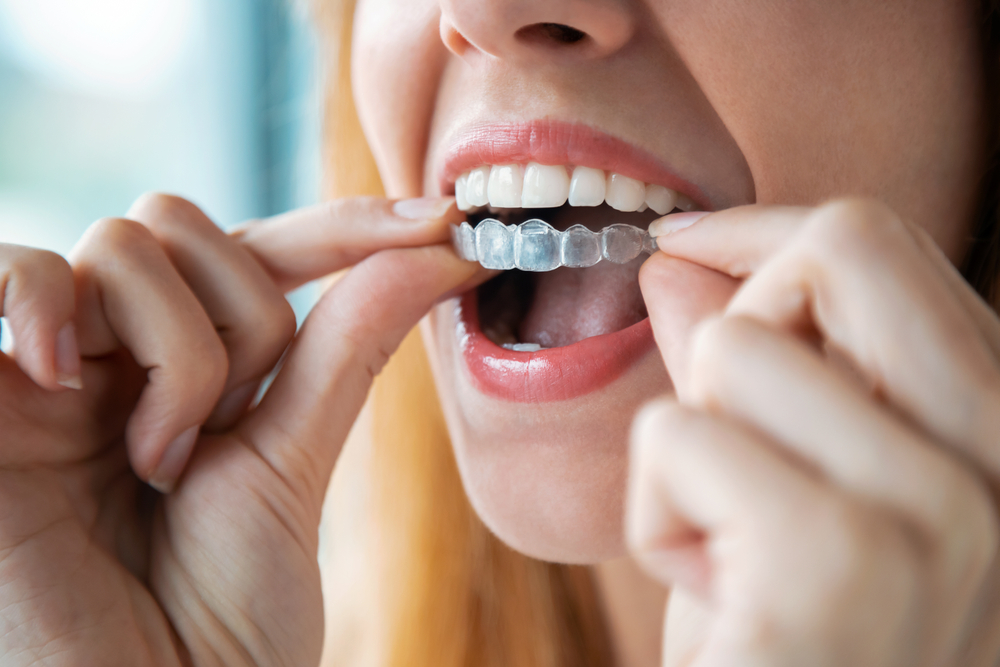 Are you an adult who's been self-conscious about crooked or misaligned teeth? Do you feel like your smile could use a boost of confidence, but you don't know where to start? At Hart Dental Group in Upper Arlington and Grandview, we offer a range of orthodontic services designed to help adults achieve the healthy, beautiful smile they've always wanted.
Orthodontic issues aren't just a concern for teenagers — many adults experience dental issues that can be improved with orthodontic care. Whether you're dealing with crowded or overlapping teeth, gaps or spaces between teeth, or a misaligned bite or jaw, Dr. Hart and our entire team can provide you with the orthodontic services you need to improve your smile.
What Orthodontic Issues Do Adults Get?
Adults can experience some of the same orthodontic problems that impact children and teenagers, including:
Crowding or overlapping teeth that make it very difficult for you to clean them properly.
Gaps or spaces between teeth or by teeth that are too small for their spots.
An overbite or underbite that makes it difficult to eat certain foods.
Crossbite or open bite: A crossbite occurs when the upper teeth bite down on the inside of the lower teeth, while an open bite occurs when the upper and lower teeth don't meet properly when biting down.
Misaligned teeth or jaws: If your jaws don't close properly, it can harm your oral health and nutrition.
Because there are numerous orthodontic issues from which adults may suffer, we will work with you to help you customize your treatment plan to meet your needs.
What Are the Options for Orthodontic Care?
At Hart Dental Group, we offer a range of choices for orthodontic services. A few of our examples include:
Traditional braces: These are the same braces that many teenagers use during adolescence, but they can be effective for adults as well. Recent advances have made them more efficient and comfortable.
Lingual Braces: These braces are applied to the backs of the teeth instead of the front. This could be an effective option if you do not want braces on the front of your teeth.
Invisalign: Invisalign uses a series of clear, removable aligners to gradually shift your teeth into their proper locations. You will go through several sets of trays over an extended amount of time, and your teeth should be in the right spots when you are done.
We would be happy to discuss each option's features and benefits before you decide which one is right for your needs.
What Are the Benefits of Orthodontics for Adults?
Orthodontics help you in numerous ways, including:
Improved oral health: Straighter teeth are easier to clean and maintain, which can reduce your risk of dental problems such as tooth decay and gum disease.
Better mental health: When you have straight teeth and a smile you can be proud of, you should enjoy a significant boost to your self-confidence and self-esteem.
Better overall health: Orthodontic treatment can improve your bite and jaw alignment, reducing the risk of headaches, jaw pain, and other health issues.
By helping you find the right orthodontic treatment to meet your needs, we can help you maximize your oral and overall health.
Trust Hart Dental Group for Orthodontic Care in Upper Arlington and Grandview
If you're ready to explore your options for orthodontic care, call Hart Dental Group today to schedule a consultation. Dr. Hart will evaluate your individual needs and work with you to develop a treatment plan that meets your unique goals and preferences. Our team takes a personalized approach to orthodontic care to ensure that each patient receives the highest level of attention and care.
With locations in Upper Arlington and Grandview, we are here to serve everyone in the local area. Contact us today to schedule an appointment at (614) 486-1123.