Cosmetic Dentistry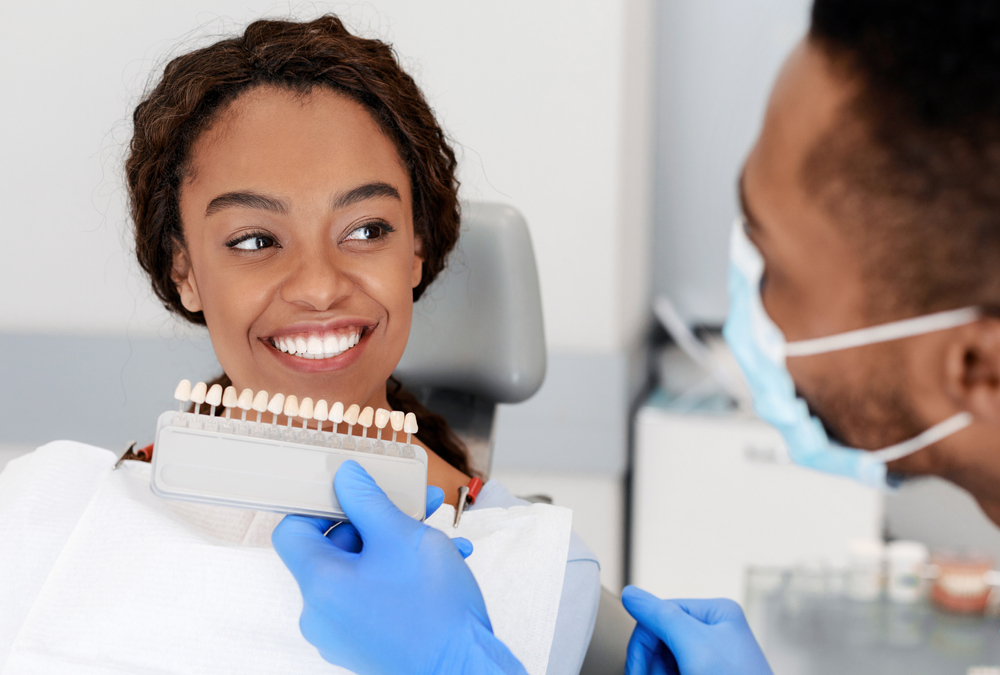 Are you unhappy with the appearance of your teeth? Do you hide your smile because of gaps, discoloration, or other imperfections? If so, cosmetic dentistry at Hart Dental Group may be the solution you need. Our experienced team of dental professionals can help you achieve the beautiful, confident smile you deserve.
We offer a wide variety of cosmetic dentistry procedures, and we can work with you to figure out which set of procedures is right for your needs.
What Is Cosmetic Dentistry?
Cosmetic dentistry refers to a variety of dental procedures that aim to improve the appearance of your teeth and enhance your overall smile. We can use cosmetic dentistry to improve the shape of your teeth, make sure the color of your teeth matches, and enhance the overall appearance of your smile.
Cosmetic dentistry is indeed about aesthetics, but it can also provide you with a significant self-confidence boost. Dr. Hart believes that everyone deserves a smile that they can be proud of, and we can use the latest tools and techniques in our field to make that happen for you.
Common Examples of Cosmetic Dentistry Procedures
At Hart Dental Group, we offer a wide range of cosmetic dentistry procedures to address a variety of issues. We might even be able to address multiple concerns at the same time.
Some of the most common problems that we can address using cosmetic dentistry include:
Teeth Whitening: This is one of the most popular cosmetic dentistry procedures. It involves using a special gel to remove stains and discoloration from your teeth, leaving you with a brighter, whiter smile.
Dental Veneers: Veneers are thin, custom-made shells bonded to the front of your teeth to improve their appearance. They can be used to fix various issues, including chips, cracks, and gaps.
Dental Bonding: Dental bonding is one of our most popular procedures because we can complete it in a single visit. We may be able to address small chips and cracks in your teeth, and we may be able to address teeth that are mildly misshapen as well.
These are just a few of the many treatment options we offer at Hart Dental Group. We can use some or all of the procedures above to provide you with the smile you have been looking for.
How Cosmetic Dentistry Can Improve Your Smile
There are many benefits to cosmetic dentistry beyond just the appearance of your smile. For example, having straighter teeth can improve your oral health by making brushing and flossing properly easier. Additionally, fixing issues like gaps or misalignments can help prevent future dental problems, such as gum disease or tooth decay. Therefore, cosmetic dentistry cannot only improve the appearance of your smile but also make it easier for you to take care of your teeth.
Perhaps the biggest benefit of cosmetic dentistry is the boost it can give to your self-esteem. When you're proud of your smile, you're more likely to feel confident and comfortable in social situations. This can positively impact every area of your life, from your career to your personal relationships. If you want to fall in love with the smile you see in the mirror, our cosmetic dentistry procedures could be right for you.
How Do I Decide Which Cosmetic Dentistry Procedure Is Right for Me?
Deciding which cosmetic dentistry procedure is right for you can be daunting, but the team at Hart Dental Group is here to help. We will work closely with you to understand your specific goals and recommend a treatment plan tailored to your unique situation.
During your consultation, we will discuss factors such as the condition of your teeth, your budget, and your personal preferences to help determine which procedure is best for you. Whether you're looking for a quick and easy fix or a more involved treatment plan, Dr. Hart will help you find the right solution.
Cosmetic Dentistry in Upper Arlington and Grandview
At Hart Dental Group, we're committed to helping our patients achieve their best possible smile. Our team of experienced professionals is dedicated to providing personalized, compassionate care to every patient who walks through our doors. We offer a wide range of cosmetic dentistry procedures in Upper Arlington and Grandview, and we'd be honored to help you achieve the smile of your dreams.
If you're ready to take the first step toward a more confident, beautiful smile, contact us to schedule a consultation at (614) 486-1123.